Ordinarily, a veneer takes two dental visits: one for consultation, and one for fabrication and application. Veneers can be used on a single tooth or a row of them.
Disease Diagnosis and Therapy
This is the first step. Alert your dentist. To discuss the procedure's merits and cons, your dentist will examine your teeth. Your mouth and teeth may be x-rayed.
Teeth Veneers
Oral veneers make whitening easy. They are thin coatings applied to the visible part of the tooth. They look real. Veneers can treat:
Unbleachable teeth
Teeth flaws
Curves in the teeth
Front teeth with big or irregular spacing
Porcelain Veneers:
It is a thin shell that protects the tooth's natural enamel.
Why Porcelain Veneers?
Durable and long-lasting,
They seem natural,
An inlay or onlay removes more enamel than a crown,
They are stain-proof.
Procedure for Porcelain Veneers
Dentists remove enamel from front and side teeth to prepare them for treatment. So your teeth will look more natural.
The dentist then takes a tooth impression your dentist also chooses the color of your veneers,
An impression of your teeth is used to create porcelain veneers. It might take days. Temporary veneers may be offered,
The dentist then checks the fit and contour of the veneers. Then the veneers are bonded to the teeth,
Modifications may be made later.
Veneers Composite
It's a tooth-colored filler.
Benefits of Composite Resin Veneers Include:
No enamel is removed by crowns or porcelain veneers,
Fewer dental visits—in certain cases, these veneers can be placed in one dental visit,
Porcelain veneers cost more,
They are easily repaired. Composite veneers are less durable yet easily mended.
Composite Resin Mounting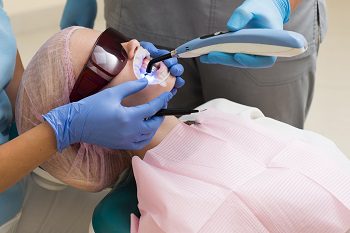 Before sculpting and bonding composite material, the dentist prepares the teeth.
To harden the composite, a laser is used.
Their surfaces are sanded and polished to look natural.
Ask your dentist about veneers. Veneers are only for healthy teeth. Be sure to see your dentist before getting veneers.
Due to their thinness, veneers may not be suitable for clenchers or grinders. Your dentist may recommend a nightguard to prevent clenching or grinding.
Removing veneers is impossible with dental enamel.
Veneers may loosen. Fresh ones may be necessary here.
Your dentist should know your treatment goals and options. The importance of regular dental appointments.
Aftercare for Dental Veneers
Pressure can damage veneer,
Accepting veneers can take weeks. If your bite is still off after your veneers, see your dentist. He'll fix it before you go,
Brush and floss every day to maintain oral health. Veneers can develop cavities. Seek out things bearing the American dental association's seal of acceptance. It assures product safety and effectiveness.
For pearly whites, brush and floss regularly. Use non-abrasive fluoride toothpaste twice daily. Avoid stains-causing meals like coffee and red wine. No matter how well you care for your veneers, they will eventually require replacing. But regular oral hygiene may extend their lives. Ask your dentist about the process and costs before getting veneers. A cute grin boosts confidence and happiness.
Talk with your Petaluma dentists today for more information. Your dentists in Petaluma, Amir Hosseini, DDS, Azadeh Hosseini, DDS, and Ghazal Hosseini, DDS at Petaluma Braces & Family Dentistry can tell you more.
Resource:
*Neither this nor any other content in this media is meant to prescribe, recommend, or prevent any treatment or procedure. We highly recommend that you get the advice of a qualified dentist or other medical practitioners regarding your specific dental condition