Dental implants can work wonders on your teeth. How so? If done properly. They will get you a pretty smile and healthy eating for a lifetime. Some patients who take medications like steroids should not get dental implantation because this might suppress their immune systems and will be deprived of proper and complete healing. People who have the habit of grinding their teeth while sleeping or grinding the food too much are also not suitable for the dental implant process. It will cause more pain and may lead to unsuccessful surgery. 
To clear all the doubts related to how dental implants work, here we have a little information which might help you if are into it! 
Steps for Dental implant
The procedure of dental implantation requires a couple of steps which are performed in intervals to get it done properly.
To make space for the new tooth, the already damaged or a decayed tooth needs to be removed by the dentist in case it is still residing there.
The first step involves the cutting of the gums to expose your jawline bone.
The dental implant which is made up of titanium is placed in the bone and left there to heal. The implant is osseointegrated and gets fused with the jaw bone to provide a strong foundation for the new tooth.
A small abutment that works as a connector is placed on the dental implant. It connects the fake or replacement tooth with the dental implant.
In the final step, a custom-made crown or replacement teeth are attached to the dental implant through the abutment. It works as a real and natural-looking tooth.
Considerations for Dental Implantation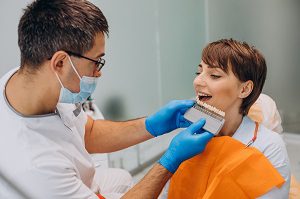 Food Intake – About 8 to 10 days following the dental implant procedure, you can resume regular eating habits. You can only consume soft foods till then. Some patients have to wait for more than five weeks before they can consume solid foods. If you eat anything within 24 hours after your dental surgery, you need to take extra care so that it does not harm your new teeth in any way. Otherwise, it can tilt the proper place and may loosen the attachment to the abutment.
Cost – Various dentists charge different prices for dental implants, which in turn is greatly dependent on your country of residence. The average cost of removing and replacing a single tooth is from 3000 to 5000 dollars. The dental implant, abutment, and replacement tooth are all included in this price. While the graftings, X-ray, extraction of the tooth, and CT-scan have separate costs.
Care – To avoid any damage or loss, the preoperative and postoperative instructions and measures should be cared for diligently. Preoperative procedures include having a proper X-Ray and CT-Scan to determine the exact location of the replacement tooth. After that, get the imaging scan done and compared to see if it is placed correctly or not. Choosing the proper type of anesthesia for a dental implant is also critical. Because the extraction and dental implant procedures may be quite painful, it is best to talk with your dentist about the sort of anesthesia you will get.
Time – The process of surgery takes about 30 minutes to 2 hours depending on which extraction you want and what is the condition of your existing tooth. Sometimes it takes 1 to 2 hours to remove the tooth and expose the jawbone for the dental implant. For the final implant of a replacement tooth, some dentists recommend the gap of two months while others may recommend more than three months to get the titanium post fused with the bone.
If properly cared for, a dental implant can last a lifetime. Cleaning, flossing, and brushing are all part of the care. Visiting your dentist on a regular basis might also help to reduce future risks. However, if the crown or replacement tooth is broken or cracked, the life expectancy is decreased to 15 to 20 years. If you choose to receive the implant, schedule recurring sessions during your visit to prepare your skin for surgery and get all of your questions answered. To learn more about how dental implants work, contact your Petaluma dentist, Dr. Amir Hosseini, at Petaluma Braces and Family Dentistry today.
*There is no treatment guide on this website, and it should not be used as a substitute for professional dental advice from a dentist. It is highly recommended that you get the advice of a qualified dentist or other medical practitioners regarding your specific dental condition.
*Neither this nor any of the other content in this media is meant to prescribe, recommend, or prevent any treatment or procedure. 
Resources: