Losing adult teeth is never a good feeling. As a matter of fact, the loss of adult teeth can result in other cascading problems in terms of dental health. The good news is that there are many restorative treatment options available to those who experience this type of dental health-related issue. Keep in mind that when tooth loss goes untreated, there can be a wide range of secondary dental health issues that will arise. Everything from bone loss to severe periodontal disease can follow the loss of adult teeth. The good news is that porcelain fixed bridges are highly effective at restoring appearance and functionality.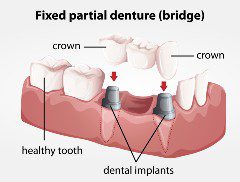 Lasting Impact on Dental Health 
Best of all, fixed bridges that are made of porcelain will look and feel exactly like your original adult natural teeth. As mentioned, tooth loss is a situation that should be addressed immediately. While most might believe that losing a tooth is simply a cosmetic issue, in truth there is much more involved. Losing permanent teeth can have a direct and lasting impact on oral health. Along with affecting your smile it will clearly affect how the remaining teeth perform and function. This is because teeth work together to support other teeth and when one is lost, teeth will shift and become lost or require extraction. 
Slip and Slide 
Once teeth begin to shift, problems will arise such as chipped enamel, gum disease, bone loss, facial deformation and a variety of malocclusions. There are many varieties of bridges in use today. Traditional bridges that are affixed to the immediately surrounding teeth are the most common option. With traditional bridges, it is sometimes difficult to eat and function normally. Because they are not held in place with cement, they have a tendency to slip and slide. Porcelain fixed bridges are similar to traditional bridges but are permanently bonded into place. This means that there will be no slipping and sliding.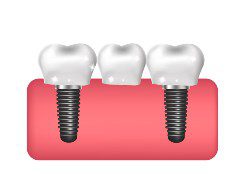 Self-Confidence are Greatly Enhanced by Improving Your Smile 
With fixed bridges that are made of porcelain, once the device has been bonded into place, you will see an immediate improvement in overall appearance as well as functionality. Self-esteem and self-confidence are greatly enhanced by improving your smile. With so much to offer it is clear to see why so many people are turning to porcelain fixed bridges as a way to enhance their overall look and dental functionality. Porcelain-fixed bridges and their benefits are clearly obvious and can be of great help to dental patients of all ages. Contact your dentist in Petaluma, Amir Hosseini, DDS, Azadeh Hosseini, DDS, and Ghazal Hosseini, DDS at Petaluma Braces & Family Dentistry today for more information on porcelain fixed bridges.