Porcelain veneers can be a very highly effective way of restoring teeth in patients with a wide variety of dental health-related problems. Determining whether or not you need porcelain veneers can be as simple as talking with your dentist about your options. First of all, keep in mind that veneers that are made of porcelain are not removable. They are fixed in place and can ultimately only be removed by a dental care provider. Expect this type of oral placement to last 20 years or longer. Determining whether or not you need veneers may include whether or not you wish to change the color and shade of your teeth. 
Hard and Damaging Food 
This is because porcelain veneers can be crafted in any color or shape desirable. Note that choosing a color that looks natural is always the best option. A soft natural white is usually the preferred color for most people. Also note that if you typically eat a lot of hard and damaging food that veneers made of porcelain may not be your best option. This is because they can become chipped and cracked requiring replacement or removal. Equally important is to consider those who have a teeth-grinding issue. From biting down on hard objects to grinding teeth there are many things that can damage veneers. 
Cosmetic Advantage 
Also note that veneers are not necessary in terms of covering each and every tooth. In many instances, they can be placed on just a few teeth, resulting in an excellent restoration. In most cases veneers will be chosen for their cosmetic advantage. When asking the question, do I need porcelain veneers it is typically best to consider the following dental issues. For example, those with worn down teeth, discolored teeth or gaps in their teeth will benefit substantially from all that modern veneers make possible. Even those with chipped teeth and misalignments can benefit from modern veneer technology.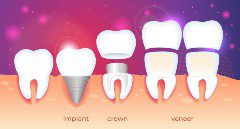 Having Veneers Placed 
Also note that porcelain is highly resistant to staining. As long as an individual maintains good oral hygiene at home, it is unlikely that veneers will become discolored or stained over time. However, that said drinking tea and coffee and smoking can all eventually affect the color and shade of porcelain veneers. Keep in mind that having veneers placed is a cosmetic procedure and may have an effect on your insurance. Talk with your Petaluma dentists today for more information on determining whether or not porcelain veneers are right for you. Your dentists in Petaluma, Amir Hosseini, DDS, Azadeh Hosseini, DDS, and Ghazal Hosseini, DDS at Petaluma Braces & Family Dentistry can tell you more.